(734) 99-MAGIC / 996-2442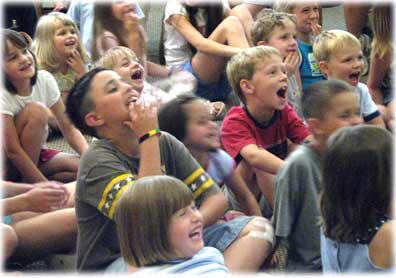 You'll get a great response like this too, when you book
Jeff Wawrzaszek's Library Magic Shows and Workshops.
"Jeff is the best! The Ann Arbor District Library hires him quite often, and he plays to a full house every time. (179 people in a small branch on a Saturday afternoon.) The magic tricks are fantastic, but the best part is Jeff's interaction with the kids...Highly recommended for schools and libraries."
Ieva Bates, Branch Manager
Northeast Branch, Ann Arbor District Library
"What great fun that was to have you at all (8) of our branches! Thank you again for sharing your joy with us. We'll definitely want you back again!"
Sarah McCarville. Youth Services Coordinator
Grand Rapids Public Library
"Jeff was a delightful performer. He held the attention of all participants. A show for the entire family filled with humor and great skill. We especially enjoyed and appreciated his link to books, reading and library service."
Carla Sharp, Youth Services
Brighton District Library
"Thanks for two great shows! It takes a special person to captivate a large audience with an age range from toddler to adult, and you did it twice in one day. Final comments from both kids and parents were all positive and ranged from "Great show!" to "This was the best magician you've ever had."...We hired you only after hearing good things from other librarians in our area. You can be sure we will be giving you high ratings during our next Children's Librarians Meeting."
Sue Mihalic, Youth Services Librarian
St. Clair Shores Public Library
"This was a terrific program for our audiences. A wholesome act that charmed all ages. We would recommend Jeff to any group who wants funny, kid friendly talent. Thanks for a great show!"
Lezlee Worthington, Reference Assistant
East Lansing Public Library
"Jeff Wawrzaszek drew our biggest crowd this fall, and they weren't disappointed! He was a great mix of humor and magic, and our audience was captivated. He kept the attention of our youngest preschoolers, and he didn't lose the older ones. Very few entertainers work well for all ages, but Jeff really did."
Laura Wright, Youth Librarian
Portage District library
"Great show and a terrific value. Kept the kids of all ages enraptured and wanting more!"
Todd Krueger, Director, Lyon Twp. Public Library
"Thoroughly enjoyed your show. It was nice to have a magic show that was all magic and no fluff in between. See you next summer for sure!"
Barb Bussema, Children's Librarian
Parchment Community Library
"Jeff did an excellent program! The audience loved him! We're really looking forward to having him back in November for a magic workshop. Many kids were already asking to register for it."
Kathy Zayko, Youth Services, South Lansing Branch Library
"Thank you - Couldn't have asked for anything more - on time, prepared, entertaining - professional in every way! We especially enjoyed the audience participation. I've heard nothing but positive remarks from kids, staff and parents. Congratulations. You were a hit at the Fischer!"
Patricia Jahr, Librarian
Fred C. Fischer Public Library, Belleville
"The show was excellent! It was wonderful to include reading and the summer reading program in the show. Some of the children's comments: How did he do that? Do you have any Magic books? I wish it didn't have to end. It was great to see a nice group for an audience in this small community. Because Jeff did such a great show, I'm sure they will return for other programs here. Thank you!"
Joyce Meyers, Branch Manager
Manistee County Library, Wellston Branch
"Well done! Really enjoyed the imaginative pieces and the creative elements. Youngsters really enjoyed the show, and so did the adults!"
Paula Beaudoin, Manager
Detroit Public Library, Chandler Park Branch
"Jeff did an excellent job. The Magic Workshop was definitely worth the money. The children had a fabulous time learning the tricks and practicing them. The show he put on was great too. The audience thoroughly enjoyed it, and everyone told me afterward that it was an excellent program."
Jennifer Grudnoski, Community Librarian
Dundee Branch Library
"Thank you for the great magic show you performed here. It was a wonderful ending to our Summer Reading Program. You repeatedly underscored the benefits of books and reading! The ending to your show was pure magic."
Marta Kuitkovasky, Assistant Director/Head of Youth Services
Chesterfield Township Library
"Jeff was funny and one of the best performers I have seen for young children. He was very professional and made each trick impossible to figure out. I would recommend him (and have) to any library looking for a guaranteed program hit!"
Karen Persello, Head of Youth & Teen Services
Chelsea District Library
"Your good humor and adaptability were greatly appreciated. We gave you an audience ranging from 2 to ???, and you enthralled them all. (Over 200 people attended, and nearly every one of them said "Thank You" before they left.) Your skill, audience rapport, professional poise and all-round likeableness have long made you one of my favorite performers. Thanks, Jeff. You really were a highlight of our library program this summer!"
Paula Schaffner, Youth Librarian
Saline District Library